ack by popular demand (and by popular demand, I mean two people asked about it). In case you forgot, the purpose of Keeping It Real is as follows:


I am reminded often that blogging has become a medium for us to present our "best selves": from detailing homemade crafts to posting stunning photos of our kids, a blog can become a show-and-tell for moms that glosses over the hard parts with good lighting and soft filters. I love reading blogs and feeling inspired -

really I do

- but I sometimes wonder how all of this is setting up our expectations for the daily grind of motherhood. So I've decided to host my own linkup/blog carnival/McLinky/what-have-you. And instead of asking you to link back to your best recipe or your cute homemade birthday party invites or your adorable handmade . . . I'm gonna ask you to link back to a post where you are keeping it real. Maybe you've had poop flung at you from the tires of your son's bike, or dropped raw egg on your shoe, or flashed the audience of a circus while nursing, or spilled a drink down your pants at your child's birthday. Or maybe it's just me.

But something tells that, while the specifics may vary, we've all been there.
I absolutely loved reading through all the links last time - thank you so much to all of you who played along!
For my own confession this time around, I'd like to highlight some of the technical challenges that I live with on a daily basis. First of all, my phone. Not even sure where to start with this one. I started using a Palm Pilot back in the 90's, when it was considered to be an up-and-coming gadget. (Don't judge me. So did you). I was first in line when Palm started making a phone combo. The problem is, I have never converted. My Palm has all my work contacts, my friends' addresses, my schedules and birthdays, and I am just way too intimated to switch to another phone. EVEN THOUGH I KNOW THEY ARE BETTER. Also, my carrier doesn't even make Palm phones. So I keep buying used Palm phones on ebay, and they keep breaking. (Or I drop them in water. Same diff). Currently, I have one semi-working phone, that often powers off in the middle of conversations. But it doesn't charge the battery. So every night I pull the battery out of the (semi) working phone and pop it into an older model that no longer works at all, except to charge the battery. Classy? You betcha.
And then there is the state of my card reader.
Our family television has white lines that cover half the screen. The DVD player breaks every couple of months and we have one techy friend who graciously fixes it for us. The rest of the time we plug in the kid's portable DVD player.
Also, my photo-editing software? Microsoft Paint. The one that comes free with the computer. That's all I know how to use.
(Let's not talk about how long it took me to convert to itunes).
Nevertheless, I've been playing around with my cutting-edge graphics stuff, trying to come up with a new button for this little series. I really wanted to capture the perfect shot of Karis, mid-meltdown. Which means that I've pulled out the camera and taken a picture of her every time she's cried. Here are a few of my favorites:
I think these were nice, but they didn't capture the full two-barrel snot cry as well as this one did:
And why are her lips so red, you may be asking? Oh, that's because she likes to eat magic markers. And I find her (or Kembe finds her) huddle in a corner eating a magic marker every day. Since we're keeping it real, let me also confess that she has often gotten through several colors by the time she is discovered.
All right, your turn. Let us in on some of your real moments. It can be a new blog post or one you've written in the past. (Doesn't have to be about technology, just has to be honest). The final button is below, if you wanna grab it for your own post.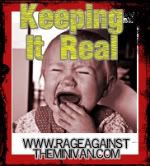 Oh, and how could I leave you without some stunning photos of my St. Patrick's day creation?